The Australian College of Professionals has produced nine Consumer Guides. The guides are:
The Sales Process
The Buying Process
Being a Landlord
Being a Tenant
Buying Off-the-Plan
Strata Scheme Basics
The Auction Process for Buyers
The Auction Process for Sellers
Using a Buyer's Agent
The books are available online and can not be purchased through the office.
We have links to Amazon below. The books are also available from other online sellers. Each eBooks is available for download from our website. To purchase the eBook, we will require your name and email address. If you have completed courses with the College, sign in as a returning student (we will already have your email address). If you have not completed a course with the College, we will require some basic information.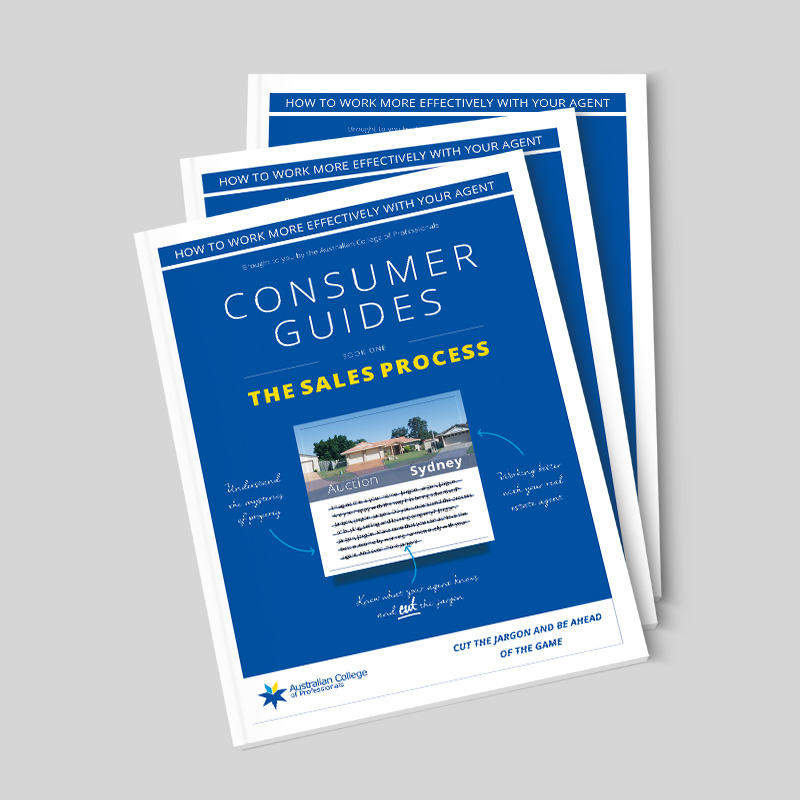 The first step in selling a property is for you, the Seller, to select a Real Estate Agent (the agent) to be in charge of the process. The agent is usually responsible for 99% of property transactions. Many people are cautious about using a real estate agent because of the negative reputation that agents in general have acquired over the years.  However, you will quickly find that selling a property yourself is a very difficult task, and that by selecting a good agent, and working with them in a knowledgeable manner, you can reduce your stress and significantly increase the benefit from the sales process.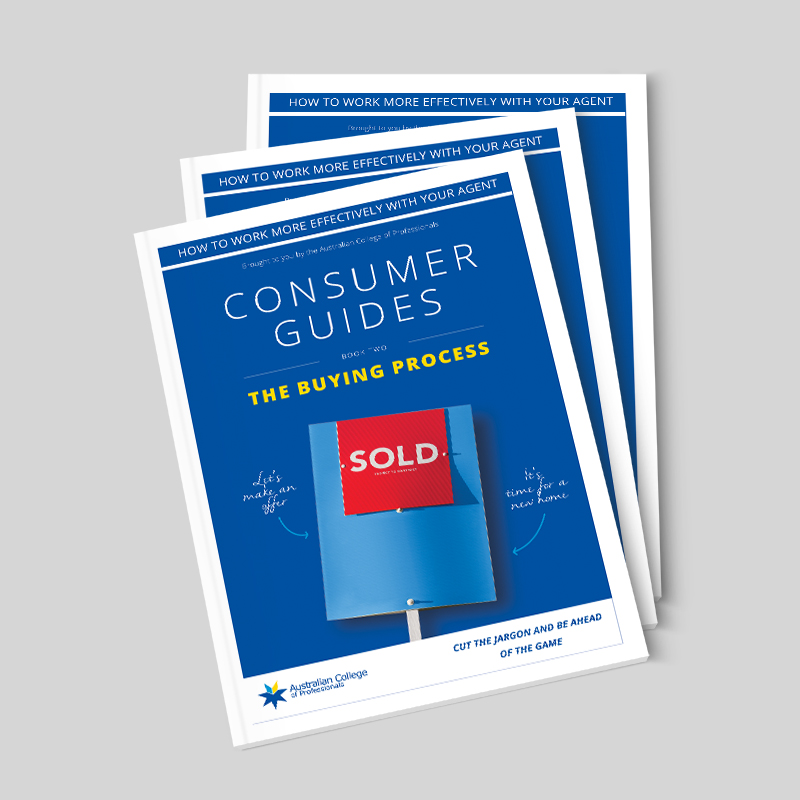 Buying or selling a property is usually the biggest financial transaction an individual will ever make. As a buyer, you need to make sure you do plenty of research, make a plan and patiently follow the necessary steps to successfully purchase a property.   The process starts with financial considerations.  Once you have a deposit, you need to approach different lending institutions in order learn what you can afford.
This buying process information guide will assist potential buyers through the process and enable people to work more effectively with real estate agents.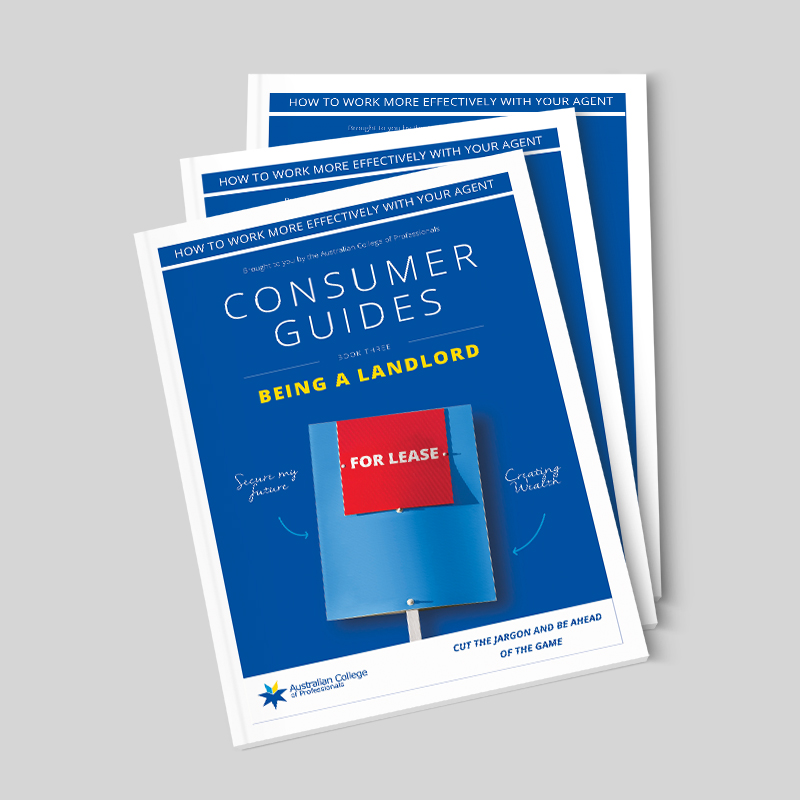 Being a landlord for a residential property is hard work that doesn't fit into the hours of 9am to 5pm. It may not fit perfectly around your work and family commitments and it is actually quite time consuming especially if you have a difficult tenant or haven't set clear tenant rules. It's important you understand the legal rights and obligations you have as a landlord as well as the rules and responsibilities of tenants, so you know what to expect.
This Consumer Guides assists landlords to work more effectively with their agents in the management of their investment properties.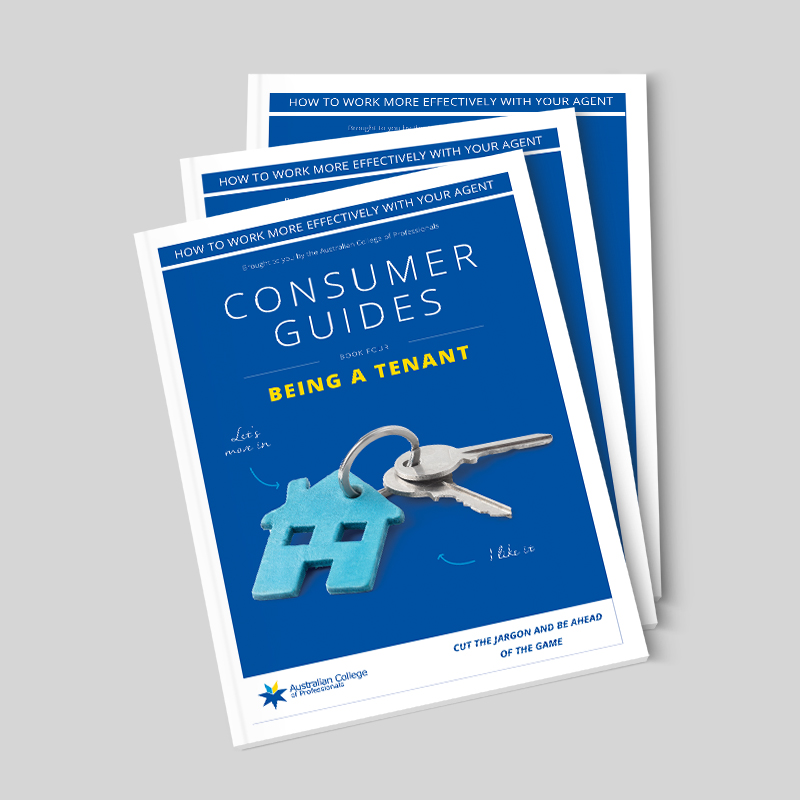 We refer to the owner of the property as 'the landlord'. However, in many cases, landlords use a property manager to manage the property for them. Agents act on behalf of landlords and are well-versed in residential tenancy management. Any references to the landlord in this guide can be referring to either the property manager or the property owner.  Using a well-trained and experienced property manager is a wise decision, as they deal with properties and related issues daily. As a tenant, dealing with an agent rather than a private landlord, is usually a streamlined approach to living in a rental property.
This guide will assist tenants to work effectively with property agents.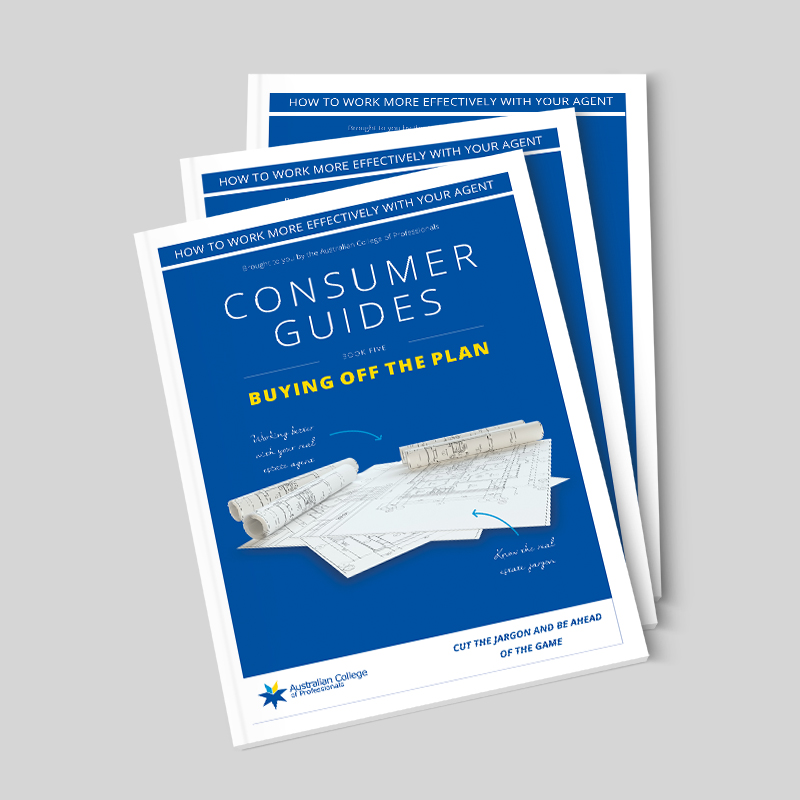 Buying a property 'Off-the-Plan' means you are buying a strata unit, townhouse or a retirement unit that has not yet been physically built. You are entering into a contract without having the opportunity to view and assess the finished property or project. When making your decision, view the building plans and artistic designs. Buying off-the-plan means you are entering into a legally binding contract to buy a property based on a ' promise'. The developer is promising to complete the building of the property and complete it in accordance with the agreed terms of the contract.  This can be very daunting. This Consumer Guide aims to provide information and assistance to people considering this style of property purchase.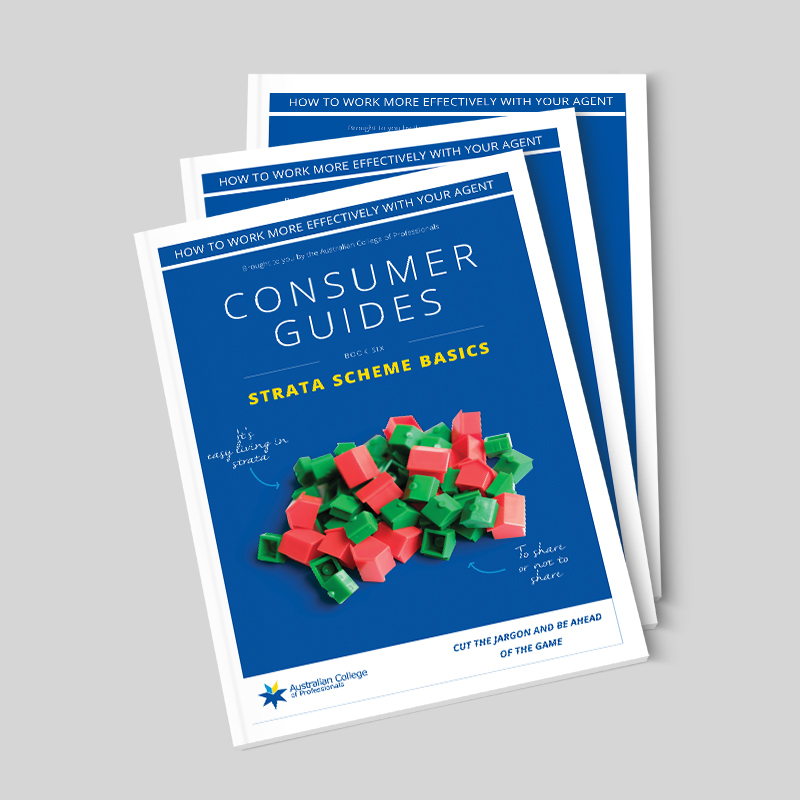 This book focuses on NSW Strata legislation and requirements, as it is the main State that has regulatory requirements for Strata Managers. The legislation in other states and territories reflects the NSW legislation.  If you live, own or rent in a strata complex or a community title complex, it is a good idea to make yourself familiar with these laws and know where to find them.
Living and/or owning in a strata or community title complex, can bring conflict as people are living in close proximity to others and need to consult when making decisions about their individual apartments/lots.  We guarantee that you will need to refer to this guide to resolve an issue or to seek guidelines on how to proceed with a complaint process.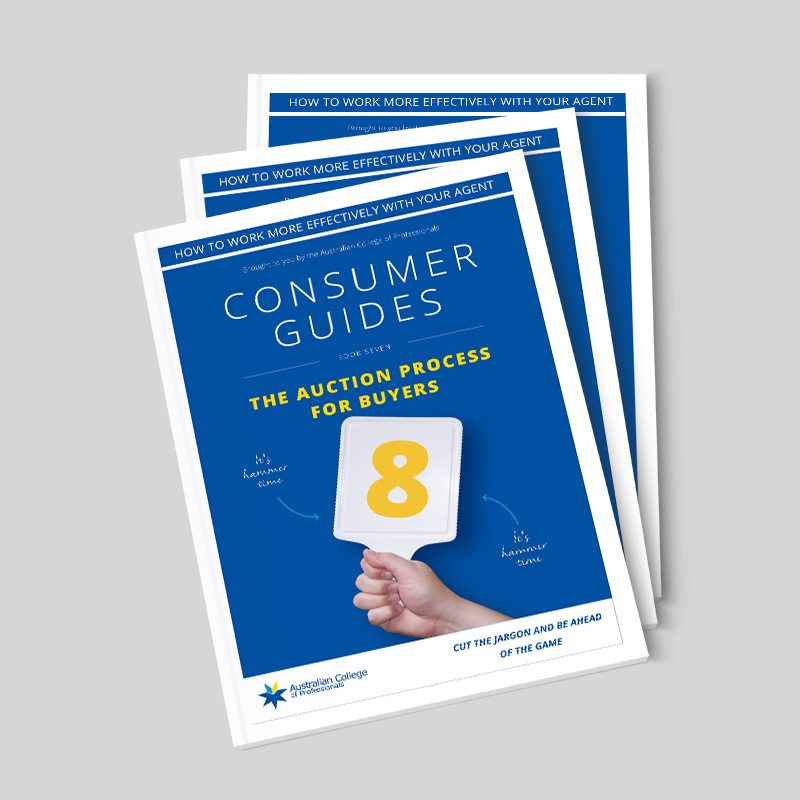 The Auction Process for Buyers
Like most aspects of the property market, buying and selling at auction is very similar from state to state. As NSW is the most highly regulated auction environment, this book focuses on the NSW process. As such, these would be the maximum requirements throughout Australia.   In general, auctions tend to be more popular in urban areas of major metropolitan cities such as Melbourne or Sydney. This is because buyers are looking for properties that are well situated; unique in some way such as architecturally popular; very popular locality; and have a high level of market activity, that is, properties that are in high demand.
This guide examines the differences between auction and private treaty (for sale) and how you, as a buyer, can best work with the agent and the auctioneer.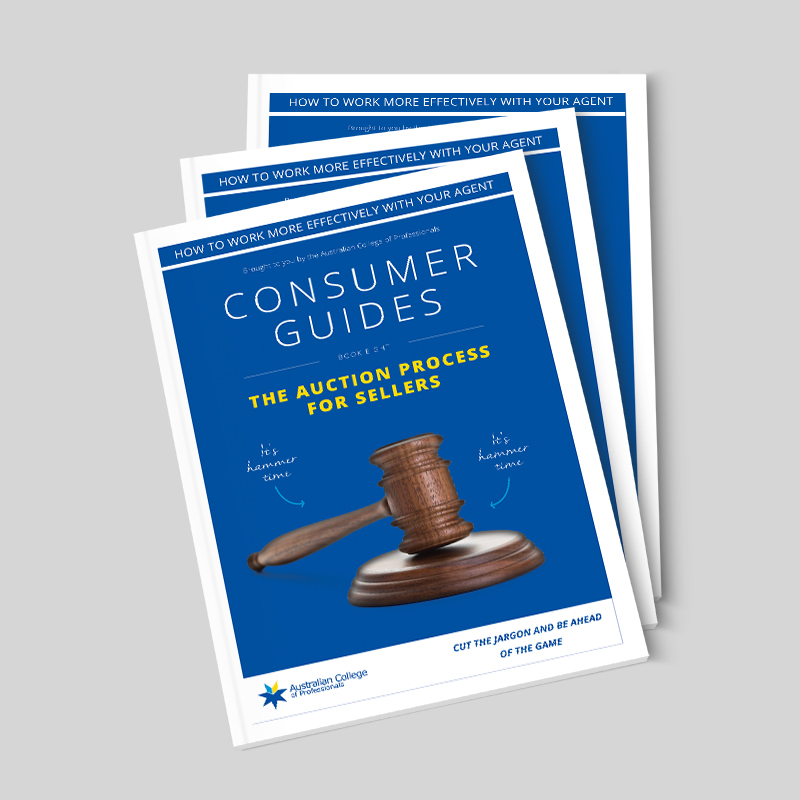 The Auction Process for Sellers
Like most aspects of the property market, buying and selling at auction is very similar from state to state. As NSW is the most highly regulated auction environment, this book focuses on the NSW process.
Generally, auctions tend to be more popular in urban areas of major metropolitan cities, where there is a high demand for properties. Therefore, your agent will make a recommendation as to whether to sell by auction, based on the strength of the market, the frequency and success of auctions in your area, the demand for specific types of properties and the likely buyer demographic.
It is important that you work collaboratively with your agent and auctioneer in order to reach the best possible outcome in the sale of your property.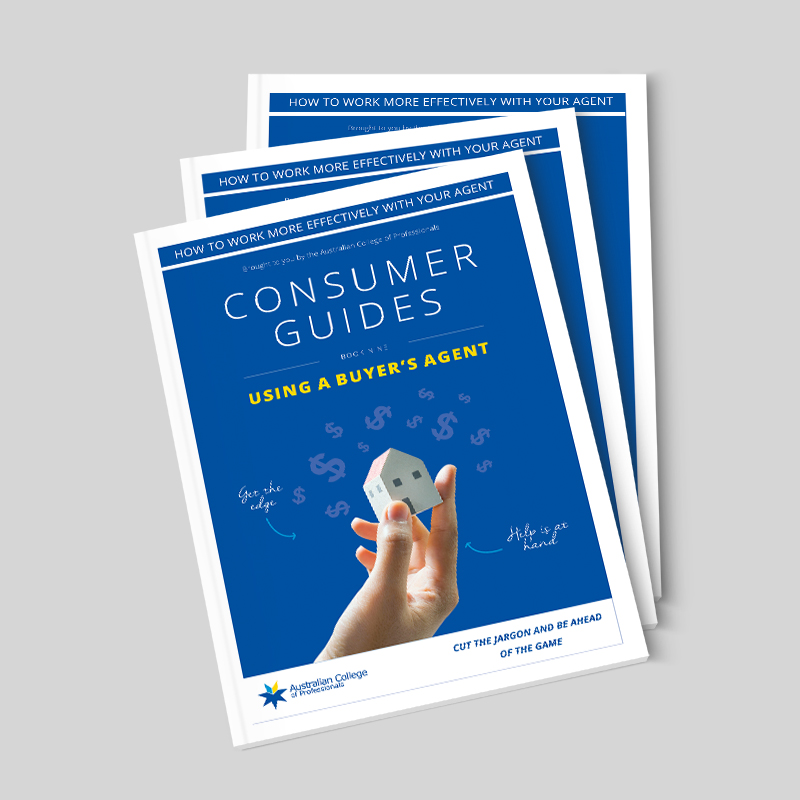 A Buyer's Agent, also known as a Buyer's Advocate, is the opposite of a real estate selling agent in that they act for you/the buyer as opposed to acting for the seller. Many people utilise the services of a buyer's agent if they are time poor, are moving from another State or Territory or are an overseas purchaser.  Also, when looking for an investment, many purchasers are daunted by the prospect of making such an important financial decision.  This is where the skills of a buyer's agent are integral.
A buyer's agent may also suit you if you have less confidence in tackling the market. Services buyer's agents offer include property searching, appraising, dealing with sales agents, negotiating a sale price, bidding at auction, arranging property inspection reports and providing general property advice.