Podcast – COVID-19 Safety Plans
October 2, 2020
Podcast – NSW Court of Appeal on Pets
October 16, 2020
Podcast – COVID-19 Safety Plans
October 2, 2020
Podcast – NSW Court of Appeal on Pets
October 16, 2020
NSW Court of Appeal Decision on Pets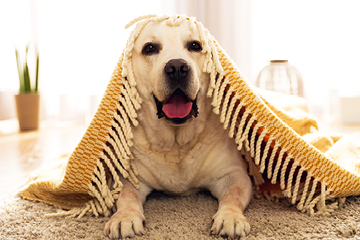 This week has seen a surprise for all who deal with strata with a NSW Court of Appeal decision on by-laws that restrict the keeping of pets. As reported by Domain:
"No apartment building in NSW will now be allowed to have a blanket ban on pets following a surprise NSW Court of Appeal ruling that overturned the right of blocks to pass by laws prohibiting animals.
The verdict follows a four-and-a-half-year battle by dog lover Jo Cooper to be permitted to keep her miniature schnauzer Angus in the prestigious Horizon building in Darlinghurst that has always had a pet ban."
Whilst this has been a topic we have visited in the past, in fact only as recently as June of this year, the decisions we discussed were all at the NCAT level. The decision in the "Cooper" matter, being made at the NSW Court of Appeal brings a new level of clarity and precedent that will have to be applied in the lower jurisdictions and across the strata schemes of New South Wales.
It is important to explore how this decision may impact on the lot owners and the role of the strata manager and property managers who are dealing with pets, wanted and unwanted, within strata schemes.
As a property manager, this does not impact so much on the right of the landlord to refuse pets. It must be made very clear that whilst tenants are to abide by by-laws as much as owners are, a landlord still has the right to not approve a pet during a tenancy regardless of if the strata scheme allows pets or not.
Just as a landlord has the right to choose the tenants that are best suited to their property, generally based on who can afford the rent and who will take care of the property, the landlord has the right to refuse the keeping of an animal in their premises. This right has not been changed by the NSW Court of Appeal decision.
This right is regardless of whether the strata scheme has a by-law restricting the keeping of animals or not and is the same in a strata scheme as it would be in a free stranding Torrens title property.
For strata managers, they will have to have a discussion with strata committees of schemes that have a blanket ban on pets by way of a by-law.
Whilst it is not the role of the strata managers to provide legal advice to the strata owners, it is their role to guide the owners in the direction of compliance. As such, it would be recommended that those identified schemes should be advised to discuss their rights and obligations with a properly qualified legal professional.
It should be noted that there are a number of strata schemes that have been waiting for this decision to be handed down so they can either lodge appeals, particularly those decisions we made mention of in June this year. However when looking at the costs that are involved in such matters in such a jurisdiction, it may be negligent of the committee to not consider a more commercial way to resolve such disputes. It has been reported that the Cooper case has amassed costs for all of the hearings in the vicinity of $500,000, of which the Owners Corporation have been ordered to pay.