COVID-19 Safety Plans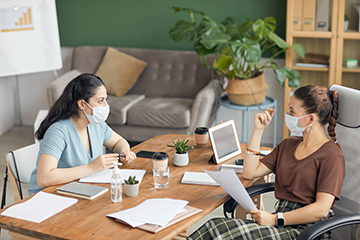 And here we go again…..another outbreak and havoc for our businesses. It is time for us to be proactive rather than reactive. We know that illness, whether Covid-19 or otherwise is never going away. So there is no better time than now to be better prepared as business owners and agents, for the new working environment we have re-entered.
The current Stay at Home Order does have some exemptions at the time of penning this newsletter – keeping in mind that those exemptions can change at any given time. Within the stay at home orders there is an order that no one should visit another person's home unless they are in the exempt category which includes:
Visitors to a Residence
Generally, visiting another person is not a reasonable excuse to leave your home. The rules allow for certain people to visit a home in certain circumstances including:
for work
for childcare
as a carer
to provide care or assistance to a vulnerable person
to give effect to arrangements between parents and children under 18 or their siblings
to assist a person to move places of residence
to avoid an injury or serious risk of harm
because of an emergency
for compassionate reasons
to view or inspect property to lease or purchase it.
Given that the final exemption is to "view or inspect property to lease or purchase it", the role of the agent has to fall into line with the covid safety plans your business should have already put in place last year.
It is time to refresh yourself and your team on what is, and what is not, acceptable in these times and ensure that all staff are keeping themselves and our consumers safe when they are viewing a home for rent or purchase.
It is now MANDATORY for agents to complete a covid safety plan for all auctions (auction houses are not allowed to be operating at this moment), open homes or other inspections, or viewings, of a property.
Agents should have either a digital or printed copy of the plan available at the premises, or place of auction, to present to NSW Fair Trading or other authorised officers conducting inspections under the Public Health Order.
How to complete the COVID-19 Safety Plan
Record the action/s you will put in place under all the Safety Plan sections:
wellbeing of staff and customers
physical distancing
hygiene and cleaning
record keeping
Each requirement must be addressed in each section. If a requirement does not apply to your premises, briefly describe why it does not apply.
To complete the plan online it should take approximately 45 minutes and must be completed in one session, so give yourself time to complete the plan.
Furthermore, NSW Fair trading have the ability to fine licensees for not having an active Covid 19 Safety plan – where the fines can be up to $5,000. Authorised Officers of NSW Fair Trading, have late last year, inspected businesses to check compliance with Safety Plans and are able to issue on-the-spot fines.
Penalties for breaching Public Health Orders range up to $55,000, with a further $27,500 penalty possible for each day an offence continues. For repeated non-compliance, businesses may be shut down for periods of up to a month.
So NOW is the time to set aside that hour and get your COVID Safety Plan completed and printed and ready for distribution as necessary. As a minimum standard, have one ready for every inspection (individual only at this stage). As auctions can currently only be conducted online, you will need to have the plan ready for when on-site and in-rooms auctions return. The plan needs to be available to anyone who wishes to see it. Even better, laminate your plan and then have it "on-show" to demonstrate your absolute compliance with the Public Health Orders.
Good luck with your plans and remaining safe during these changed times.